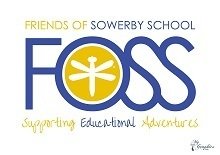 FOSS
Friends of Sowerby School (FOSS) is a charitable organisation run by volunteer parents and carers of Sowerby Primary Academy and is one of the ways to get involved in our thriving school community. Its purpose is to support the education of children at the school through developing closer links between staff and parents/carers, and by engaging in fundraising activities that provide educational facilities and activities for pupils.

FOSS raises much needed funds for the school by organising a variety of fundraising and social events such as the summer and Christmas fayres, cake stalls, Apple Day, pantomime, tombolas and raffles.

The majority of the funds raised by FOSS go towards paying for school trips, visiting live theatre productions and educational workshops to broaden the children's learning experience inside and outside of the classroom. More recently, FOSS has additionally been supporting gardening club and forest school activities at Sowerby.

All parents, carers and other family members are very welcome to get involved with FOSS. It's a great way of getting to know other families and school staff whilst making a contribution to the quality of school life. Children love seeing their parents and carers in school. By getting involved, you can benefit them, improve their educational environment and make friends too. Please contact a member of FOSS or the school office for further information.

FOSS Trustees 2020
Keeley Ungerechts (President)
Naomi Wood (Chair)
Ruth Roberts (Secretary)
Sophie Dowsland (Treasurer)