Gymnastics Win
Gymnastics Win
30 January 2020 (by admin)
KS2 won at gymnastics today competing against 7 different schools.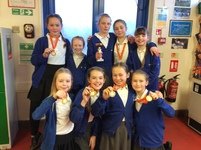 The children returned from the competition looking very proud of themselves and quite rightly too. They triumphantly brought back the trophy after competing against 7 other schools in the area.
They were wearing well deserved medals and carried a shiny trophy which they proudly placed on the shelves alongside the other trophies the school have earned over the last few years. Well done to everyone for taking part and doing their best!