Listeners
Listeners
16 January 2020 (by admin)
Our Y6 Listeners Take To The Playground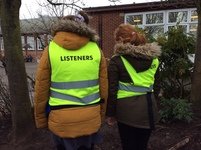 Our Y6 Listeners have taken to the school playgrounds this week after their intense training. They are there to help any children across the school with any problems or issues. With their high visibility jackets so they can easily be seen, and wearing their trusty bags containing pens and note pads to write with, they are there to help.
Each Listener has been given a yellow star badge to wear with pride to identify them easily so everyone knows who they are even when they are not outside.
Each Listener has taken their role very seriously. One Listener said, " We get to meet new people and help them. We help people if anything has gone wrong on the playground and help fix their problems."