Crucial Crew
Crucial Crew
21 November 2019 (by admin)
Year 6 visit Crucial Crew at Carlton Lodge Activity Centre, Thirsk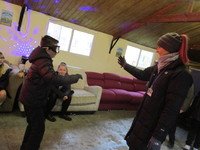 Today the Year 6 pupils visited Crucial Crew at Carlton Lodge Activity Centre, Carlton Miniott, Thirsk.
The program is run by North Yorkshire Police and Fire Service and is all about safety.
The different zones included: keeping safe with electricity, keeping safe near water and how to help someone in trouble, domestic abuse/violence, worry/anxiety, LGBT+, drugs and alcohol as well as how to prevent fire in the home and what to do if there is a fire.
The children moved from zone to zone spending approximately 20 minutes at each activity. There was opportunity to ask questions too.
A big thank you to all the staff there for their expertise and time! All the children have learned so much !
To learn more about Crucial Crew, Click on the link below.