James Winn Estate Agents = Sponsorship
James Winn Estate Agents = Sponsorship
14 November 2019 (by admin)
James Winn Estate Agents, Thirsk - Sponsorship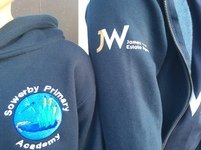 A MASSIVE thank you to James Winn Estate Agents, Bakers Alley in Thirsk and High Street, Northallerton!
We are very proud and pleased to announce that James Winn Estate Agents (sales and lets) have sponsored us again for our out of school sports competitions. We have been able to expand our kit to different sizes and add some hoodies to the kit that we have already purchased from a previous James Winn sponsorship.
The kit was purchased from Fox Stitch, Thirsk Industrial Estate, and is of high quality, sporting our school logo and James Winn logo.
We asked James Winn if they would like to continue the sponsorship as they have been very supportive the last time. Having the sponsorship from a local independent company and run by local people, is very important to us to show we support our local market town.
The children (and staff!) are very excited about the kit and are looking forward to the next competition to show it off. Children have commented on how they feel smart wearing the kit and proud that they can represent their school with a positive mind set, giving them confidence when they take part in out of school sporting activities.
"I am really excited to wear the new kit for tag rugby! I feel really proud to wear it." commented one Year 6 pupil.
For more information on James Winn Estate Agents, click on the link below.