Leavers Assembly
Leavers Assembly
18 July 2019 (by admin)
Leavers Assembly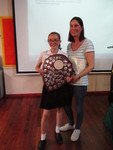 Leavers Assembly went well today with parents watching the Year 6 children getting sorted into classes with a special sorting hat. The children talked about their happy memories from the past several years at Sowerby Academy and what they wanted to be when they were older.
Also during assembly, it was announced that Lydia and Chloe have won the Readman Trophy! A big well done for their amazing projects on puppies and sea life plastic pollution. They were both amazing pieces of work! All the nature projects were brilliant and it was as always, difficult to choose a winner because of the high standard of entries. A £10 book token each was handed over as well as a trophy!
The Rotary Club Endeavour award was also presented to a Year 6 pupil for their contribution to the school throughout their time here. We are very proud to announce that this year, the well deserved winner is Lizzie Kelly! For more information on the Endeavour Award and Thirsk Rotary Club, click on the link below!
We will miss all the children and wish them every success and happiness in their new venture at Thirsk School and Sixth Form College.