Enrichment Day
Enrichment Day
29 March 2019 (by admin)
Enrichment Day at Thirsk School and Sixth Form College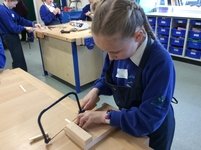 Art and Design and Food Technology were on the time-table today for Year 5 pupils at secondary school.
Thirsk School and Sixth Form College kindly took time out today to teach all of our Year 5 pupils for the whole day. Its just another part of our inclusion days with the secondary school. A big thank you to all the staff and pupils for their time and support!
For more photos go to our gallery page.