Bike Ability
Bike Ability
26 March 2019 (by admin)
Bike Ability Course for Year 5.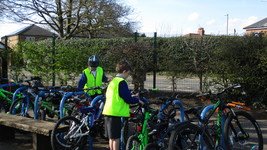 Road safety was priority today for Year 5 pupils. They learned how to check their bikes before riding them, the importance of wearing a safety helmet, and how to do safe maneuvers in the road.
All the children have to do a written test as well as the practical to pass. Well done to all the children for completing their first day of the course.