Happy Medium!
Happy Medium!
10 March 2019 (by admin)
Children have been learning about using different mediums in art.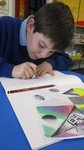 Four mediums have been chosen by the children in Year 5 and 6 to incorporate in their art lessons this week .
The children want you to take a look in the gallery at the two short videos they have made. They have been working hard to practice using the mediums in their art books ready for their main piece of work starting next week.