World Book Day
World Book Day
7 March 2019 (by admin)
World Book Day Dressing Up!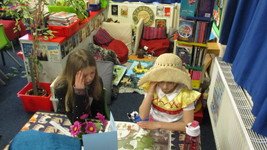 The school was full of amazing book characters today! The children dressed up as characters from their favourite books which included: Harry Potter; Mary Poppins; 101 Dalmatians; Alice in Wonderland and Robin Hood to name but a few!
Swapping classes, the children took turns reading to different year groups.
"I didn't realise that book was so good!" commented one child.