Bounce For Books and Freddie
Bounce For Books and Freddie
6 March 2019 (by admin)
Bounce For Books and Freddie Day! The children bounced on space-hoppers today for fund raising events.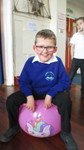 Children throughout the school excitedly bounced on space-hoppers today to raised money for school books and for a local boy Freddie who is awaiting medical treatment abroad. The cash came flowing in and we would like to thank everyone involved for their generosity.
For more information on Freddie, check out his FB page.