Music For Life
Music For Life
26 January 2019 (by admin)
Music For Life Trio Visit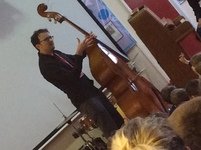 Andy, Ben and Gavin came to school this week to share some jazz music.
'When The Saints Come Marching In' was a favourite with the children as well as music from 'The Jungle Book.'
Children took part in an afternoon workshop and some children had the opportunity to play the drums.