Medals, Medals, Medals!
Medals, Medals, Medals!
5 April 2022 (by admin)
Sports Medals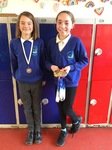 Two KS2 pupils have been earning some sports medals recently and were very proud to bring them in to school to share their experiences.
One pupil went to the British Qualifier and with her team came first in the gymnastics competition which meant they qualified for the championships. There they came first and second place! What a super achievement !
Our other pupil earned their medal for playing defence in football. This pupil also earned Player of the Match! What a fantastic achievement! When talking about her experience she added, "I was told to 'stick to a player like glue', and I did that task really well. It was really hard work, but it was worth it!"
Clearly a lot of practice and dedication goes into these competitions and it has clearly paid off for both of these pupils. Well done to both of them!