Tchoukball
Tchoukball
25 March 2022 (by admin)
Year 3/4 Tchoukball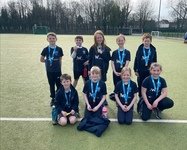 Many congratulations to the Year 3/4 pupils who represented the school this week at tchoukball.
Tchoukball is a non-contact team sport in which two teams compete for points by rebounding a ball off the frame (goal, if you like). Great passing and catching are essential as well as excellent communication skills!
Proudly wearing their sponsorship kits provided by local company JAMES WINN estate agents, the team worked brilliantly together improving with every game and also enjoying the afternoon of sunshine as well as the added bonus of their shiny medals! What a fun afternoon!