Judo
Judo
25 January 2022 (by admin)
Glynn who teaches junior judo came to school this week!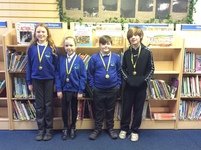 Glynn, who teaches junior judo, came to school this week to give the children in KS2 a taster session.
Judo is a sport that doesn't rely on strength however, it is based on a combination of balance, reaction and co-ordination. The sport helps children become more self-controlled, disciplined, self-confident and polite.
The children had a thoroughly amazing time with him while he was here and some of the children from each class earned themselves a medal!
If you and your children are interested in the sport contact Glynn via e-mail: glynnfidgeon@yahoo.co.uk
The lessons are held in various venues including Thirsk and Northallerton on a Saturday.