Colour Run
Colour Run
16 July 2021 (by admin)
Colour Run 2021...Let The Fun Begin!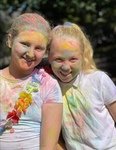 Children (and staff) thoroughly enjoyed The Colour Run today keeping safe in their bubbles.
What a fantastic end to the week as the children ran around the school field taking on the challenging hurdles as they ran through a rainbow of colours!
A big thank you to FOSS for organising the event!
More photographs can be viewed on Our Gallery page.