Planets Double Page Spreads
Planets Double Page Spreads
10 November 2020 (by admin)
Y6 Pupils Show Off Their Work To the Head Teacher!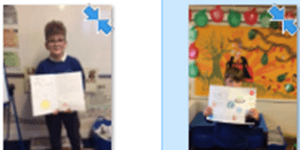 Two Year 6 pupils were sent to the Head Teacher this afternoon to show her their work! Don't worry...they were not in trouble!
Mrs. Mount and Miss Merifield were so impressed with the children's' work on their planets topic and work attitude, that they were asked to go and show and explain it to the Head Teacher, Mrs. Ungerechts.
The two children had each made their own double page spread packed with information and illustrations with regards to planets and the sun. They had both worked enthusiastically and tirelessly on the project. Mrs. Mount and Miss Merifield said they were very proud of the children for all their hard work and dedication to the topic. Well done!