Virtual Den Weekend!
Virtual Den Weekend!
2 July 2020 (by admin)
Virtual Den Weekend Is Coming Soon!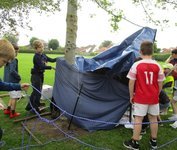 Fancy having fun children building a den? Now's your chance!
We are having a virtual den weekend to replace our annual Den Day that we hold during the summer term. Due to social distancing restrictions, the Den Weekend will be held at your own home! (adult supervision)
Date: Friday 10th July - Sunday 12th July
Venue: Your home...inside or outside
Resources: sheets, blankets, pillows/cushions, old carpet, string, clips, ... whatever you think would be useful (keep it safe guys).
When you have had fun constructing your den, take a well deserved rest and read a favourite book while enjoying a drink and snack inside your amazing den!
We would love to see you in your den while enjoying reading, so please send us a photograph (1 only per family please)...you may get your photograph here on the website or on our FB page!
Keep the date on your calendar and start collecting your resources!
Have fun!