Virtual Sports Week!
Virtual Sports Week!
22 June 2020 (by admin)
Welcome to Sowerby's Virtual Sports Week!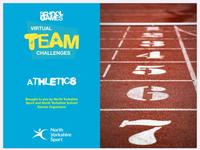 Welcome to Sowerby's Virtual Sports week. There are 4 events in total.
Everyone who is in school will be participating and it would be amazing if you could have a go at home too!
Good luck and don't forget to send in your results by clicking the link that has been sent to you via an email. If you have more than one child at home then multiple links will be sent. We would also love to see photos and videos of your child/children participating at home so we can share on our website. These could be sent to the class teacher on Class Dojo or posted in the comments below the FB post.
All the entries contribute towards the house group your child/children are in, and team results for our best performances in Years 3/4 and 5/6 will be submitted to North Yorkshire Sport!
Again, good luck everyone and have fun!