Margaret Hunter Award
Margaret Hunter Award
11 June 2020 (by admin)
Our very own Miss Sanders is awarded for all her hard work with Diabetes UK!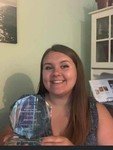 Here at Sowerby Primary Academy, we pride ourselves in recognizing all of our wonderful children's achievements. In special sharing assemblies, we present certificates and trophies to many children. However, this week we are proud to learn that our very own Miss Sanders has been awarded a special trophy of her own !
Miss Sanders dedicates a lot of her time with Diabetes UK and she has been understandably recognized this year for all her hard work. Well done Miss Sanders, we are all very proud of you for your outstanding hard work and dedication!